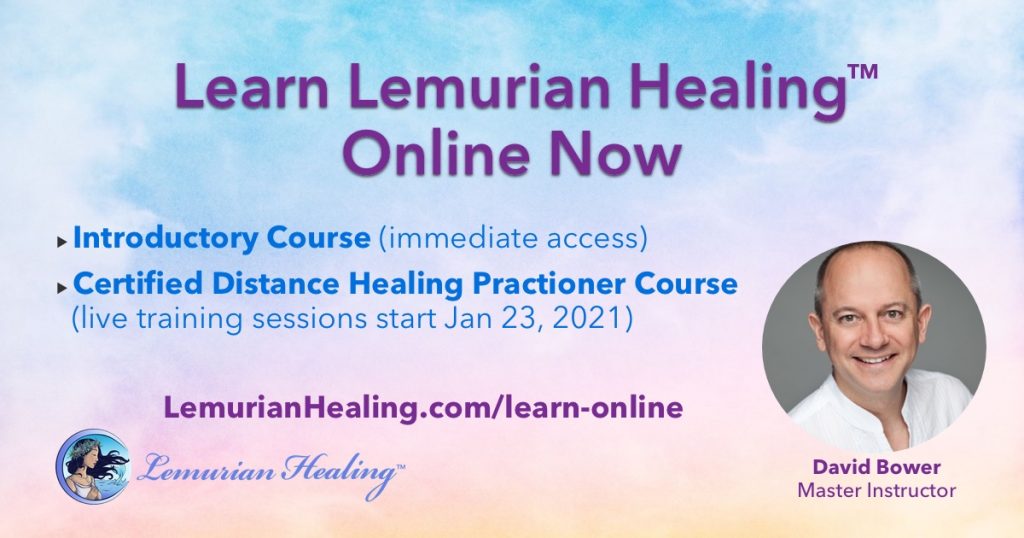 Based on the success of last year's pilot program, I'm happy to offer immediate access to two Lemurian Healing™ online courses for January 2021.
Valeria in the UK just enrolled in the Lemurian Healing™ online practitioner course and sent me this quick note:
I've just started the course and it's amazing! So glad to be there and do this journey with you and the others!"
There are two courses available for immediate enrollment:
Introduction to Lemurian Healing™ for Self-Healing
Learn the fundamentals of this ancient healing technique and how to apply it to any aspect of your life experience. Enroll now and you'll get immediate access to 3 hours of video course content. Plus, I'll be hosting a live Q&A session for all course participants on Friday, January 22 (Hawaii time).
Reawaken the Lemurian wisdom within you and learn skills you'll use for the rest of your life.
Click here for course details and immediate access:
https://davidbower.teachable.com/p/intro-lemurian-healing-2021/
Lemurian Healing™ Certified Distance Healing Practitioner Course
This comprehensive course includes immediate access to the introductory video course described above plus a series of three, 4-hour live training sessions on Zoom (January 23, 29 and 30 Hawaii time).
And if you can't join the live classes, no worries. We'll match you up with a course partner. You can watch the recordings on your own time. Then, you and your partner can schedule pair-work practice sessions whenever it's convenient.
Whether you're a professional healer or have no prior experience, this can be a life-changing experience on your spiritual path.
Click here for course details and global session times:
https://davidbower.teachable.com/p/distance-healing-2021/
Lemurian Healing™ is 5D healing for a 3D world.
I look forward to sharing the magic and wisdom of this ancient modality with you this month.
Aloha nui,
David