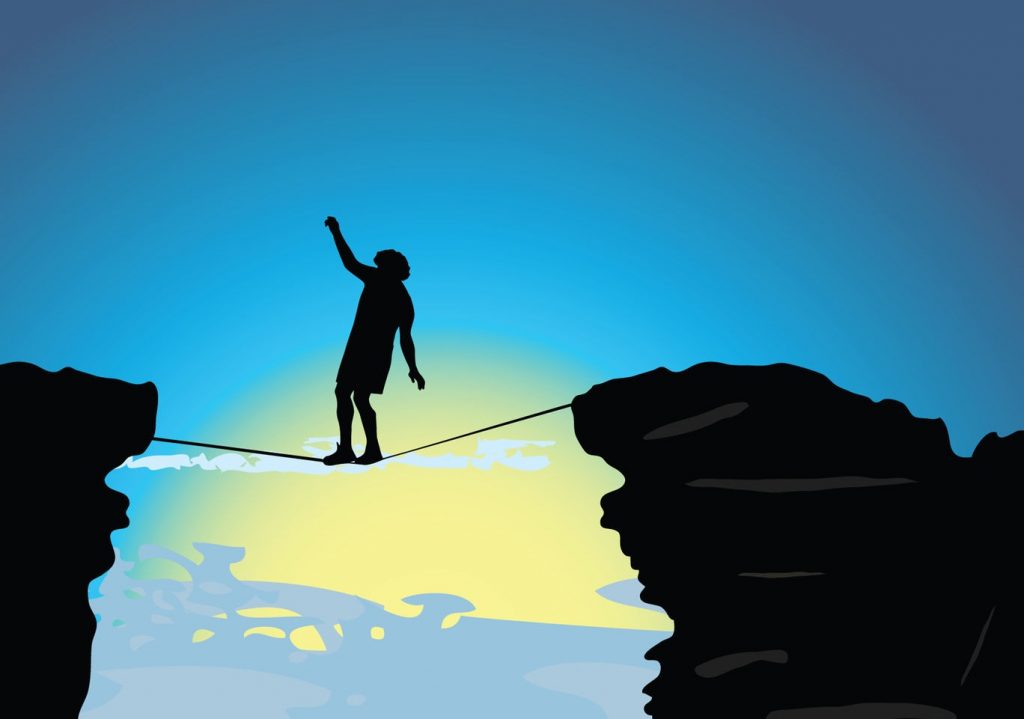 Being human on this planet seems to be getting harder all the time.
Things are changing so rapidly, it often appears that there's nothing stable or reliable we can depend on. People, institutions, traditions, beliefs… they're all susceptible to falling apart and failing us.
Why does everything feel so unsettled?
Well, never before in human history have we experienced this particular phase of evolution. We're truly living on the edge of creation.
Some are calling it an ascension process, others call it the Great Shift. Whatever label you use, the truth is we're collectively undergoing a profound shift in human consciousness and a subsequent shift in reality.
And while this human adventure can be intriguing and exciting, it's also very uncomfortable for many of us. We're looking for comfort and stability, but out here on the edge of evolution, there's not much to hold onto.
That's because we're walking a path that humans have never tread before. We're experiencing unprecedented physical and mental challenges, our emotions are swinging like a wild pendulum, and we're being confronted with the unpleasant truth that our own thoughts create our reality.
Basically, we're being pressured to evolve. And evolution is messy. It's as if the human race is collectively experiencing the most awkward adolescence of all time.
So, in the midst all this shifting energy, what can you count on? Well, if you're looking for stability, if you're looking for guidance, if you're looking for some kind of safety net, look no further than your own higher self.
Your higher self is the one aspect of life you can always depend on, no matter what kind of chaos is swirling around you or within you. Your higher self is the larger, eternal, unwavering, multidimensional part of who you are. It's the divine You.
Your higher self is who you truly are. As your higher self you always see the bigger picture and understand the divine perfection and connection of all life. As your higher self, you know your plan for this lifetime, you know your purpose.
Best of all, your higher self is your direct connection to Source Energy. How awesome is that?
The one sure way to cope with what's going on in the world and in your own life is to develop a strong relationship with your own higher light.
You say you want to communicate with your guides and angels and other non-physical beings. Did you know that all connections with spirit are made possible through your higher self?
You ask, "What is my life's purpose? Why am I here?" Did you know your higher self holds the key?
Because the higher self is essential to spiritual awakening and personal evolution, I've been testing out a new workshop this year. My goal has been to help people forge practical relationships with their higher selves so they can create more meaningful, fulfilling and joyful lives. So far the response has been very positive.
With all the upheaval and evolution happening in the world, now is the perfect time to create a loving and practical relationship with your true, infinite self. If you want to discover more about your higher self and learn how to work with your personal source of wisdom on a daily basis, here are some simple steps to get you started.
Set your intent. This is the most important step. Make the decision to develop a conscious relationship with your higher self. State your intention clearly. (Your intent, by the way, is the most powerful tool in your toolbox.)
Start a routine of daily meditation. Developing a practical relationship with the higher, wiser part of you requires focus and some discipline. It's almost impossible to communicate effectively with your higher self in your normal, waking consciousness. Doing short, daily meditations is an easy way to develop the inner stillness and awareness needed to receive inspiration and messages from your higher self.
Invite your higher self to work with you more closely. As a prayer before one of your meditations, make a very clear request to your higher self to start working more actively with you. Explain that you are willing and ready to interact consciously with your essential self.
Also, there's a book I can highly recommend. More than 20 years ago, author and channeler Sanaya Roman published Spiritual Growth: Being Your Higher Self, a seminal book for awakening spiritualists. I know several people who've owned this book for 10 years or more and return to it often because it contains timeless gems of guidance and wisdom.
Recently, I've been thinking about how best to create an online course to help people connect with their higher selves and learn about their life blueprints. If this is this something that interests you, please leave a comment here or send me a message. Let me know what would you like to understand better or learn how to do?